If you are a Gen 1-2 Glock owner, a lover of Recover Tactical gun stabilizers or gun stabilizers in general, you might have felt left out for years with the lack of compatible Glock stabilizers for Gen 1-2. Well, this situation is about to change. With Recover's new release, the Recover Tactical 20/20N stabilizer, you can join fellow Glock owners basking in the benefits of owning one. 
The Recover 20/20N foldable Glock stabilizer is compatible with all 9mm and 357 double stack Gen 1-5 Glocks. It is also compatible with all double-stack SW40 Gen 1-4 Glocks. This means the new installation from Recover Tactical can support all Glocks with or without a rail.
Here are all the features this installation brings: 
What is the Recover Tactical 20/20N stabilizer made of?
This year's Recover Tactical Glock stabilizer is made from reinforced fiberglass polymer like its predecessor. This allows the stabilizer to provide the needed support and durability Glock owners demand from their gun support.
How versatile is the Recover Tactical 20/20N?
This product is:
Red dot optics compatible (to improve the chances of hitting your aim 100 yards out)

Compensator compatible

Umarex, Cybergun, and Airsoft Glock compatible

G7 holster compatible
What are the stability features of the Recover Tactical 20/20N stabilizer?
To improve accuracy, stability, and convenience, the Recover Tactical 20/20N Glock stabilizer has a sturdy shoulder brace that doubles as an arm brace. This means you can either shoulder mount your Glock with this thing or fasten it around your forearm for quick successive shots. The unique design eliminates the need to modify or disassemble your pistol.
It also comes with a forward handle to help prevent the mistake of placing your free hand around the muzzle of your Glock for that added support.
Is the Recover Tactical 20/20N easy to use?
Aside from being a very versatile pistol stabilizer, the Recover 20/20N foldable stabilizer comes with a lot of improvement that makes it easy to use.
For starters, the kit, uniquely designed to lock your Glock in place, doesn't require any disassembling or modification of the pistol to provide the adequate support you need. Aside from that, it is lightweight, compact, and uses your pistol's built-in sights.
Some of the stabilizer's models come with a sling, holster with pistol adapter, Picatinny side rails, and Glock magazine pouch, all to make your experience with your Glock easy and enjoyable.
What is the compatibility specification between the Recover Tactical 20/20N and Glocks?
The Recover 20/20N tactical stabilizer fits all 9mm,357, and SW40 double stack Glocks from gen 1 to 5. However, the UCH17 charging handle doesn't fit the Gen5 40 cal pistols –  G22/23/27/G35.
Here is the fit chart for the 20/20N recover stabilizer:
G17 GEN 1
G17 GEN 2
G17 GEN3
G17 GEN4
G17 GEN4 MOS
G17 GEN5
G17 GEN5 MOS
G17L
G17P
G19 GEN1
G19 GEN2
G19 GEN3
G19 GEN4
G19 GEN4 MOS
G19 GEN5
G19 GEN5 MOS
G19X
G22 GEN1
G22 GEN2
G22 GEN3
G22 GEN4
G22P
G23 GEN1
G23 GEN2
G23 GEN3
G23 GEN4
G23P
G24
G26 GEN2
G26 GEN3
G26 GEN4
G26 GEN5
G27 GEN2
G27 GEN3
G27 GEN4
G31 GEN1
G31 GEN2
G31 GEN3
G31 GEN4
G31 GEN3
G31 GEN4
G32
G32 Gen4
G34 GEN1
G34 GEN2
G34 GEN3
G34 GEN4
G34 GEN4 MOS
G34 GEN5
G34 GEN5 MOS
G35 GEN1
G35 GEN2
G35 GEN3
G35 GEN4
G35 GEN4 MOS
G45
G45 MOS
G17T
G19T
UMAREX AND CYBERGUN OFFICIALY LICENSED GLOCK AIRSOFT PISTOLS
How do you install the Recover Tactical 20/20N stabilizer? 
Like its predecessors, the 20/20N foldable pistol stabilizer comes ready to use from the box. All you need to do is to place and fasten your gun to the support. Watch the video below to see how it is done. It should take you a few seconds to a minute to have everything set up.
Ready to purchase your Recover 20/20N stabilizer?
If you're looking for a trusted firm to buy the new Recover 20/20N stabilizer, YRS Inc. is a top dealer of quality Recover gears as well as other tactical equipment. We provide you products that have gone through our quality inspection to eradicate the bad experience of obtaining a defective product.
Click below to order the right recover 20/20N kit for you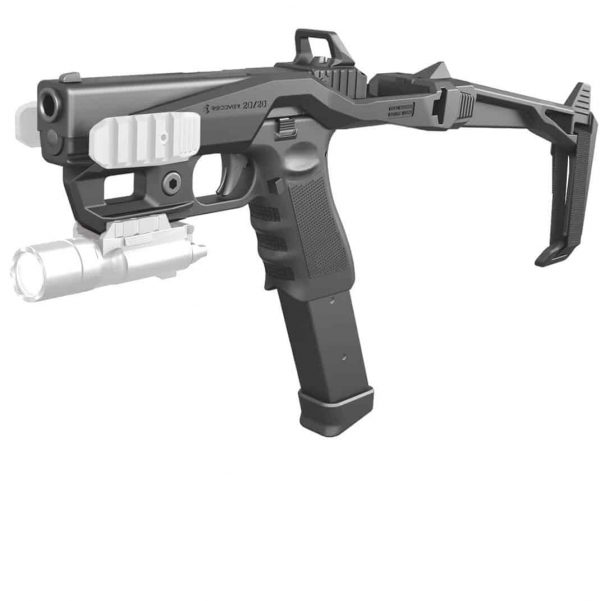 Recover Tactical 20/20N for Glock 26 and 27